Kayaking can be a rather fun and recreational activity that can calm and relax you. Aside from the relaxation, it's a great way to fit in some exercise and also to see nature. This article is not intended for people who have been kayaking for a long time, as they already know what to do through experience.
So if you're a beginner and want to get into kayaking, here are a few useful safety tips to guide you on your boating journey:
1. Sign Up For Lessons
Kayaking is not an easy thing to do, although many make it look that way. It is actually quite a dangerous activity, especially if you don't know how to do it properly, so you should first get lessons from a professional. This activity is not something you can learn advanced moves with on your own, so you shouldn't take the risk of doing so, as it might endanger your life.
You won't know how to control and possible reverse a dangerous situation. So it is better if you get help from a trained professional to guide you into the mechanics and basics of kayaking.
2. Select The Right Kayak
Choosing your own kayak is very important because you need to learn how to be comfortable, while choosing which one is best for your level of experience. You must also learn the specifications of your boat, such as the durability, size, level of protection, stability, and price. It is important that you know how to handle the boat properly and that it is suitable for the conditions you will be kayaking in, especially in the case of whitewater and the ocean.
For beginners, you could read an Oru kayak review, since it's easy to carry and you could learn how to put a folding kayak together. Plus, it's more suited for calmer waters, which is where you'll be when you're just starting out.
3. Plan Your Kayaking Trip
Before you head out, you must consider the possible weather on that day and take into consideration other factors, such as the current and other natural phenomenon. It's best not to go kayaking alone, especially when you are going for the rapids, as it is safer if done with a friend who can protect and rescue you in a situation of possible danger. An even better choice is to go with professionals, especially your first time, because they have the experience to know what to do, should an emergency arise.
4. Wear The Proper Attire And Safety Gear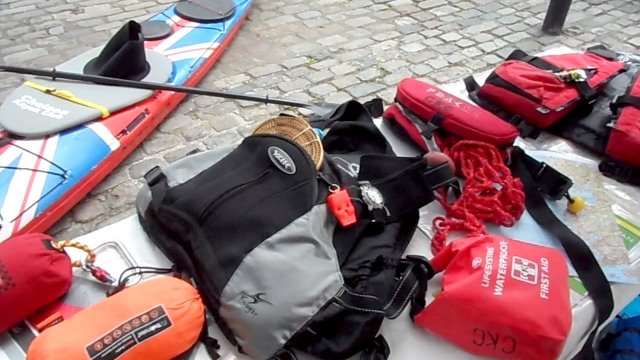 Remember, in kayaking you will most likely get wet, so you have to make sure that your attire is good for keeping you warm while in the kayak, but not too bulky in case you flip over and go into the water. You need to make sure that you are wearing the proper safety gear, like a life jacket and helmet, in case an emergency happens. Try not to bring any electronics and valuables (unless they're in a waterproof case inside your life jacket) because there is a high chance that you might lose all these items in the water.
5. Be Confident In Your Kayak
If you aren't confident with your kayaking skills, then you are definitely not ready to kayak. Make sure that you know how to sit properly, steer, hold the paddle and how to balance yourself. Also make sure that you know how to swim and rescue others in case of any possible accidents. Kayaking is all about the skills, but also confidence is an important factor. It will determine whether you should go kayaking or not.
So, do you think you're ready to go kayaking? If so, then take these things into consideration and go enjoy yourself! Just remember, safety is the most important thing, then fun.